Squirrel Custom Made
SQUIRREL Oil Palm series 15-03
The SQUIRREL Oil Palm series has been designed for the oil palm industry and is a complete combined harvesting/ collection system. The advantages of the SQUIRREL Oil Palm Series are:
* Increased productivity .
* Holds 2 tonnes of FFBs.
* Safe one man operation.
* Harvester moves from palm to palm without descending.
* Minimal ground compaction.
* No soil contamination of FFBs.
* Operates over wet rough terrain.
* Compact - turns within its own length.
* Total fruit handling from palm to trailer.
* Total palm harvested from one side of row.
* Closer inspection of FFBs prior to harvesting.


---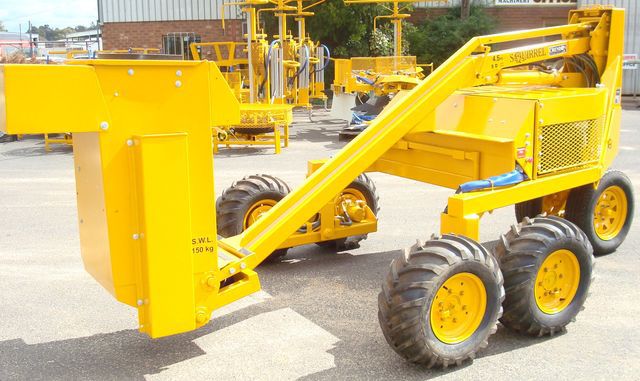 SQUIRREL 4.5m

This SQUIRREL is designed for netting contractors with VERY HIGH GROUND CLEARANCE and yet still maintains a low overall height. SIDE SWING increases the versatility of the SQUIRREL without affecting stability when working on slopes. It is foot operated.

---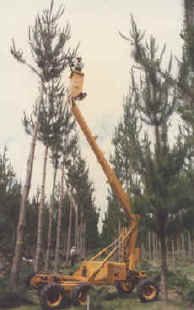 FORESTRY SQUIRREL 8m platform height 10m Reach
Has Bogey wheel drives enabling it to climb large branches designed for working in "Agro-Forestry"