Squirrel 505 SD
The 50 5 SQUIRREL is the ideal machine for mango or avocado plantations and street tree pruning because of its robust construction and many features.

The 50 5 model is designed primarily for street tree pruning with the following features.

Planetary Drive Wheel Hubs
Drive wheel planetary hubs are specially made for Crendon Machinery and feature
large 8:1 reduction gearbox with an integrated hydraulic motor and incorporate fail safe multi-disc wet brakes as standard.
These brakes work when driving down a slope and eliminates creep and overrun.
Hubs have quick spring loaded disengage freewheeling as standard.
large tapered wheel bearings & cogs; the hub is twice the weight of our competitors.
Special seals on the brake piston for long life.
Custom made hydraulic motors are fitted to give very high torque at low speed with 200 bar seals.
SQUIRRELs are fitted with special valving that give a soft start and stop, greatly reducing the jerky effect that other cherry pickers have.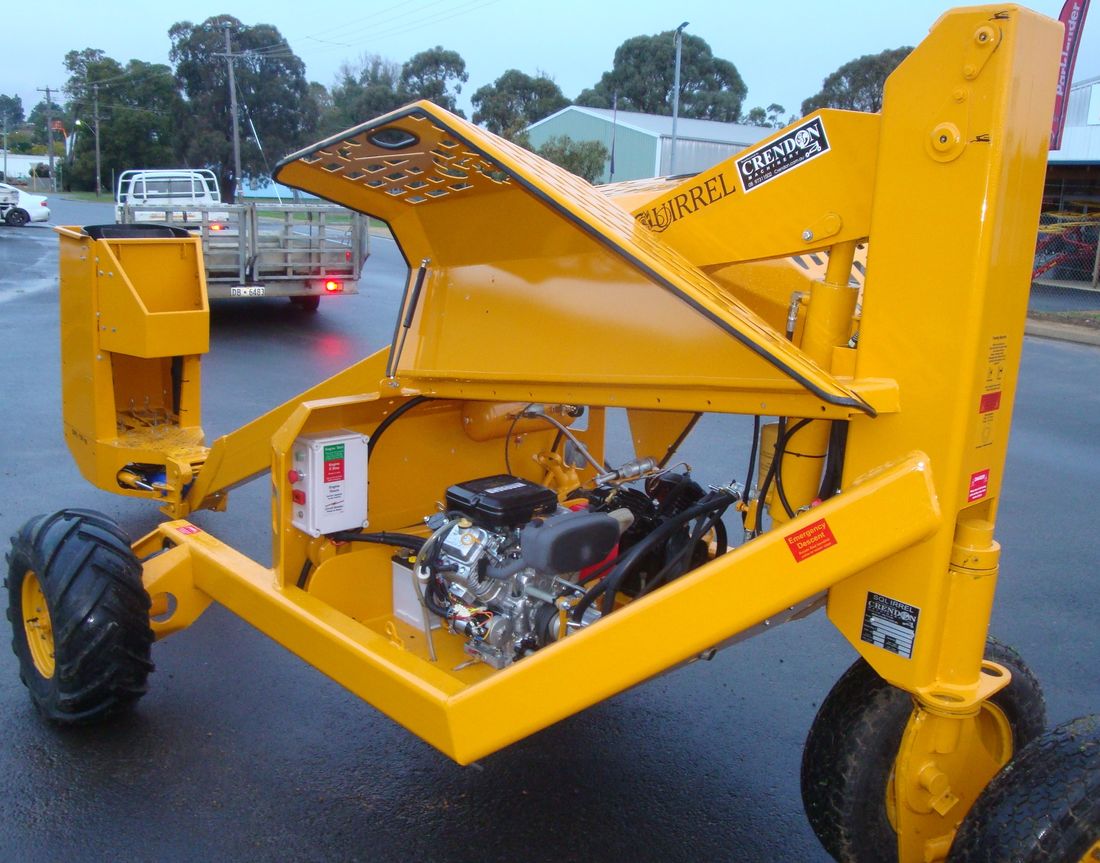 Fully enclosed engine compartment
SQUIRREL 50 5, 65 5 & 80 5 all have a spacious fully enclosed lockable engine compartment providing ample room to service a range of engines, air compressors and air receivers. The engine compartment bonnets have gas struts to assist opening. A large removable fuel tank allows off-site refueling and increased security.
Quiet Engine
Engine is petrol driven, electric with back-up rope start and heavy duty starter solenoid. The engine base is supported on compression springs which eliminate vibration. An additional muffler pipe is fitted, ensuring a quiet, pleasant working environment.
Powerful Hydraulic System
Hydraulics have the capacity to handle steep and adverse conditions. The system is protected by a very fine 10 micron suction filter. The steel braid hydraulic hoses are fitted with spring guards to ensure long life.
High ground clearance
SQUIRREL 50 5, 65 5 & 80 5 all have a high ground clearance allowing the unit to drive over large branches and prunings without fouling.
Hydraulic Three Speed
Three speed is a standard feature which operates independently from the variable engine rpm, enabling the operator to select a wide range of speeds for faster operation and traveling.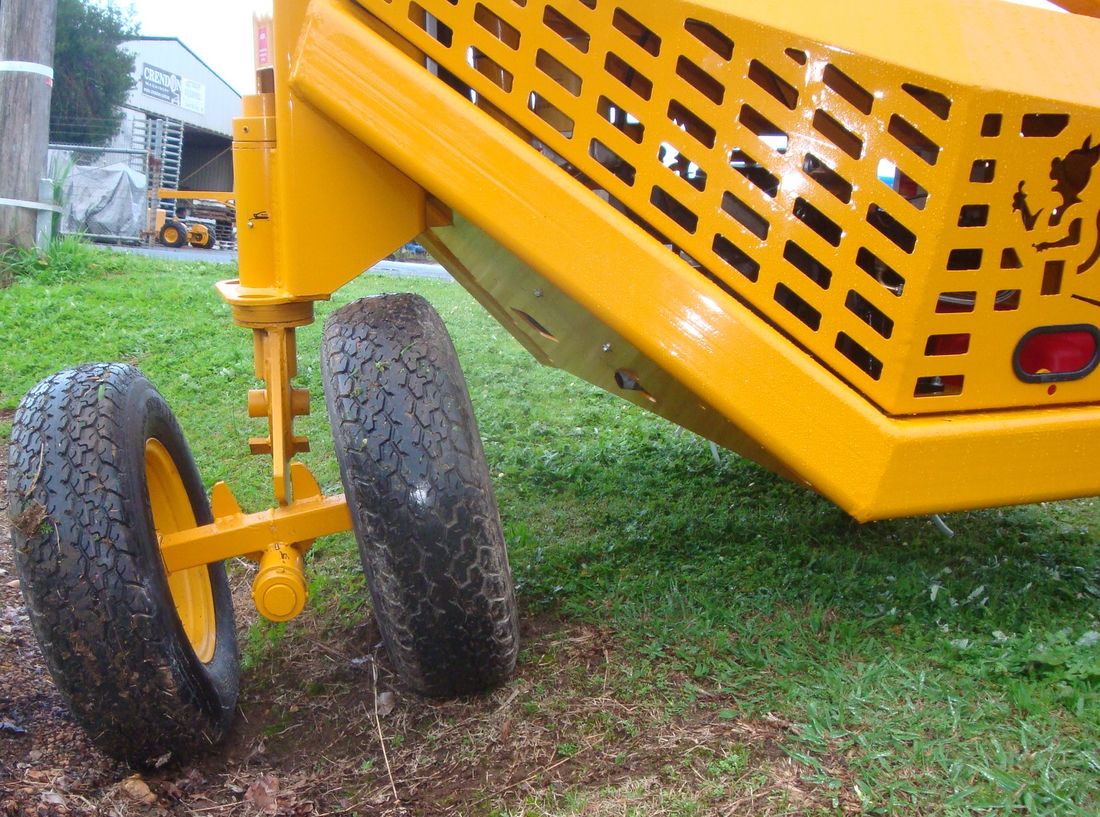 Dual caster wheels
Two independent large diameter caster wheels with an additional horizontal pivot provide a very smooth ride over uneven terrain or street kerbs. As one wheel mounts a kerb the other stays at the original level. Effectively the height of the kerb is halved. This allows the operator to comfortably work safely and quickly. These wheels also greatly reduce the possibility of bogging because of their independent rolling action. Standard on 50 5 & 65 5 models. Horizontal pivot has a large self lubricating replaceable bush.
Safety Throughout

SQUIRREL is recognised for its robust heavy construction and Standard Safety Features which Include.
Audible Slope Alarm - multi-height, speed & slope sensitive

Audible Un-safe Speed Movement Alarm
Emergency Stop at Ground and Cage
Dual Cage Entry System
Fail Safe Foot controls to Australian Standards
Fail Safe Traveling and Parking Brakes
Cage gate has double lock mechanism
Safety Harness Anchor Point in Cage
All Hand Controls Fully Guarded
All pivot pins easy to remove or replace - boom, stabilizer bar, cage & caster wheel
Extensive Clear Documentation Includes -

Owners Manual & Parts list
Maintenance Check-list
Operator Induction Check-list
Pre-operation Check-list.
Each machine is rigorously tested prior to delivery. Design is approved by WorkSafe WA and other states to Australian Standard AS1418.10. The 505 Squirrel is approved for 15º forward & back slopes and 7.5º sideways at full height (5m), increasing to 25º slopes at 1m height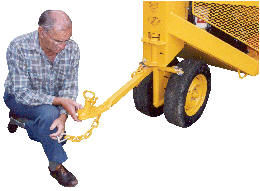 Heavy duty towing
A long heavy duty draw bar with ball hitch is a standard component on the SQUIRRELs. This draw bar is stored inside the engine compartment when not in use. The long draw bar and large diameter caster wheels provides smooth safe towing. For long distance transport it is recommended that the SQUIRREL be transported on a trailer - due to excessive tyre wear and legal speed limitations.
Easy lifting
A single lift point is standard on all 50 5, 65 5 and 80 5 models. It provides simple, very safe and balanced lifting for articulated front-end loaders or cranes to load and unload from trucks.
All models are true all-terrain machines. Each SQUIRREL has evenly spaced and loaded large diameter drive and caster wheels with a powerful two speed hydraulic system enabling them to negotiate undulating terrain.
Genuine Foot Controls
The SQUIRREL is a machine with unique foot controls, giving three dimensional movement without the operator shifting his feet. A wide seat belt holds the operator directly above the foot pedals giving a safe and comfortable working position. The fully adjustable spring centered foot pedals allow you to continue working with both hands free AT ALL TIMES. This proven feature alone makes the SQUIRREL the most efficient machine.
For more information on cage & foot controls click picture on right.
Specifications
Max. Cage floor height: 5m
Safe working load: 150 kg
Max. Cage side swing: 60º left through to 60º right
Cage overhang: Max 2.3m Full Height 0.5m
Engine: 16 HP twin cylinder overhead valve petrol engine (21 HP when 30 cfm compressor fitted) (19 HP & 23HP Diesel available). Heavy duty electric start with back up rope recoil. Oil alert and pressurised filtered lube. 55 lt steel fuel tank. Other engines available on request.
Hydraulics: 10 micron suction filter to tandem gear pump to direct operating foot valves to anti-overrun valve, to Geroler hydraulic motor to fail-safe variable speed hydraulic wet-disc brake to planetary reduction gearbox.
Ground speed: First 0-2.5.kph : Second 0-3.5.kph, Third 0-6kph
Tyres: Drive - Std 26 x 1200 x 12 x 8 ply tractor grip, Optional extra 31 x 1550 x 15 x 8 ply tractor grip (diamond block available on request) , Caster -25x10.5x12
Rear machine height: 1.9m
Width drive wheels: 2.3m
Weight STD Model: Approx 1.5 tonne
Length: 4.54m
Ground clearance: .34m