Squirrel 355 SD
5.5m reach 3.5m platform height
The 35 5 SQUIRREL 3.5m cage floor height, is the ideal machine for orchards because of its robust construction and many features.

The 35 5 model is designed primarily for picking and pruning trellised orchards.

With the SQUIRRELs side swing cage (rotated left or right) the operator can comfortably pick as the SQUIRREL is driven straight down the row of a trellised orchard, even on steep terrain.
Planetary Drive Wheel Hubs
We have our own design very heavy duty 8:1 planetary reduction gearbox with an integrated powerful hydraulic motor and incorporate fail safe multi-disc wet brakes which eliminate creep and auto brakes smoothly when driving down a hill. Hubs are standard with quick disengage freewheeling. This is the most powerful efficient drive giving maximum torque to the drive wheels.
Fully enclosed engine compartment
The bonnets are made from heavy steel and will not break with fallen or overhanging branches. For security, the bonnets are lockable and swing up with a gas strut to give easy access for servicing.
A Vanguard v-twin cylinder 16hp petrol engine is standard. The exhaust is extended and piped low down to the rear of the Squirrel away from workers. Engine auto stops when oil pressure is low.
E-Stop and Start switch, reset circuit breaker are accessible without lifting the bonnet.
A sealed enclosure protects all the electrical components.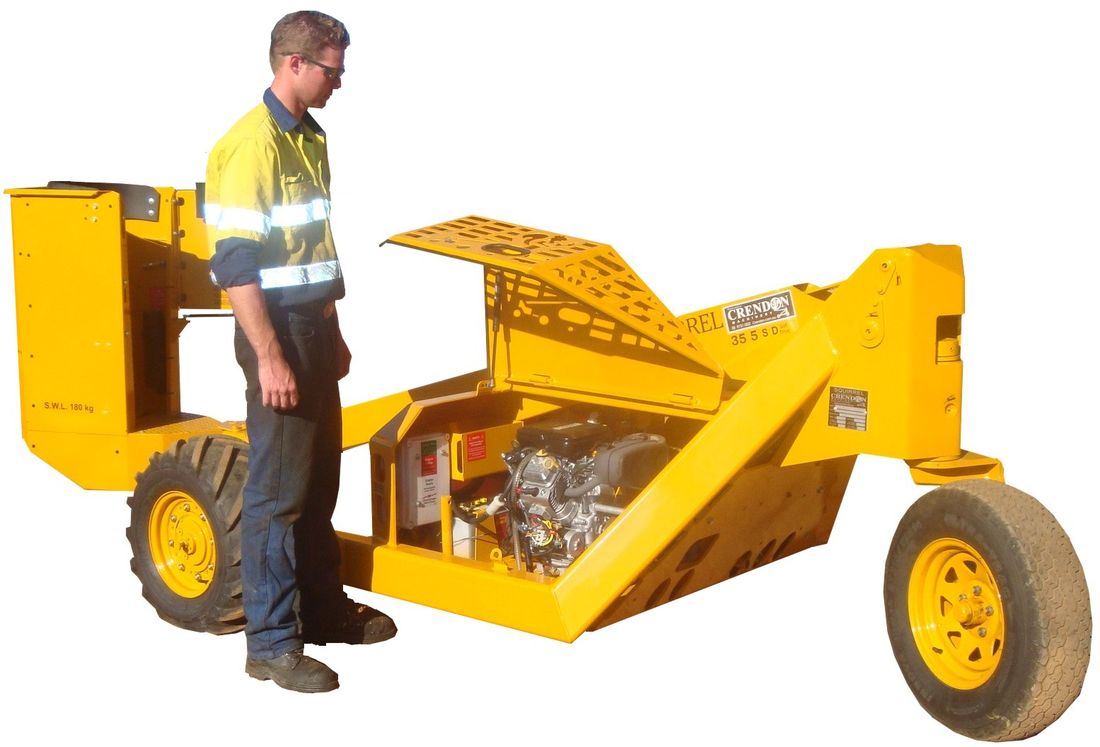 Powerful Hydraulic System
Hydraulics have the capacity to handle steep and adverse conditions. The system is protected by a very fine 10 micron suction filter. The steel braid hydraulic hoses are fitted with spring guards to ensure long life.
Low Profile
The Squirrel 355 SD has a low back and low profile bonnets. Cage, bonnets and frame back have large rounded corners so overhanging branches easily deflect.

The 355 LB is short in design about 0.5m shorter than other machines in the market this makes it a lot more manoeuvrable in the rows.

Hydraulic Three Speed
Three speed is a standard feature which operates independently from the variable engine rpm, enabling the operator to select a wide range of speeds for safe and faster operation. There is a joy stick in the cage to change speeds, which can be done while driving.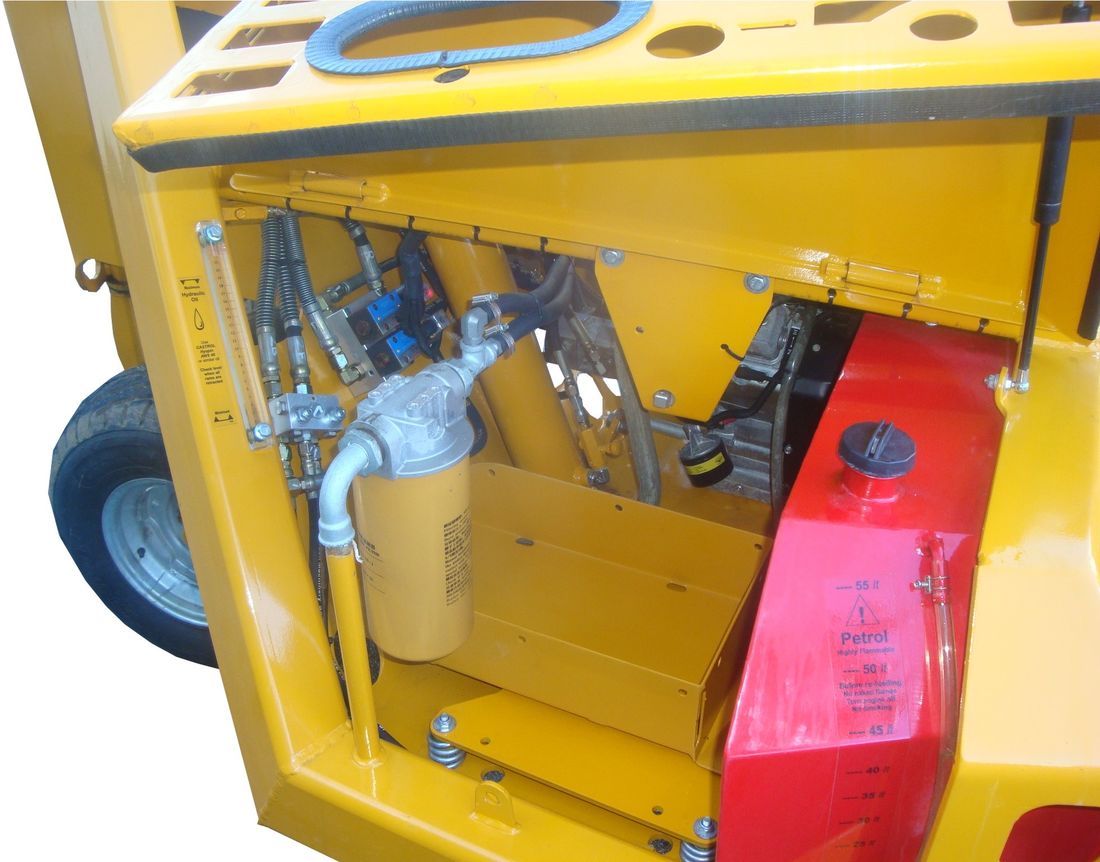 Large Fuel Tanks
SQUIRREL engine is fitted with a mechanical fuel pump and has a 55 litre steel fuel tank.
The SQUIRREL is a machine with unique foot controls, giving three dimensional movement without the operator shifting his feet. A wide seat belt holds the operator directly above the foot pedals giving a safe and comfortable working position. The fully adjustable spring centered foot pedals allow you to continue working with both hands free AT ALL TIMES. This proven feature alone makes the SQUIRREL the most efficient machine.
For more information on cage & foot controls click picture on left.
Safe In & Out of Cage
The SQUIRRELs Cage: is safe and easy to enter and exit - no bending and twisting under hand rails. It is automatically closed and latched with 2 separate latches. As the rear seat belt is attached, getting in and out is safe and fast. To un-latch it requires 2 fingers to lift two latches, then push back. The latch handles are recessed in the back inside corner.
The Squirrel gate is fully Australian Standards & OHS safety compliant.