Funpark Volunteers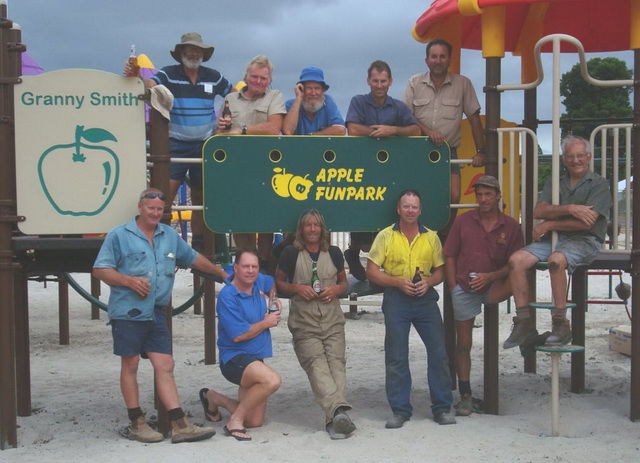 The biggest free entry Fun Park in Australia, worth over $2 million, is in Donnybrook WA, which was opened at Easter 2008. The park has play equipment for all ages – from toddlers to teenagers and is situated on the corner of Collins and Reserve St (off South West Highway).
Thanks must go to all the volunteers who made it possible!
Mick Fry
Graeme Langley
Glen & Kim Miller
Peter & Sherrie Morgan
Neville & Dyanne Fry
Gil Langley
John Duncan
Tony & Sharon Taylor
Lui & Helen Tuia
John & Melanie Roberts
Linsey & Barbara Thomas
Peter & Linda McCabe "part paid"
John Fry
Dave Roberts
Jim Gerde
Dante Chiera
Paul Fry
Darrell & Lyn Ramponi
Peter Compopiano
David Bleakley
Chris & Hazel Salter
Chris & Maureen McCabe
Steve Russell
Mike Ferguson
Aaron & Margaret Barker
Inneka Thiel
Glen Cooper
Russell Jones
Victor Pisconeri
Lindsay & Luisa Dale
John Lausevic
Allen Morgan
Mark Anderson
Casey & Jenelle Dale
Brad Swarbrick
Graham Dickson
Angelo Logiudice Jnr
Lisa Mann
Graeme Fry
Karl Hutchinson
Trevor Gulvin
Cameron McCabe
Peter & Vi Howell
Mick Wringe
Albert Vinci
Peppi
Cavallo
Joe & Wendy Betti
Ross Cooper
Maxine Quick
Ross Smith
Murray & Belinda Walker
David & Shirley Steicke
Carlo & Mark Patane
Robert Smith
Neville & Jill Clifford
Steve Dilley
Alf Patane
Shane Atherton
Greg Stewart
Leith Crowley
Joseph Patane
Sandy & Mark Buzzard
Ian & Bernadette Humphries
Bernie Dawson
Frank Patane
Steve Gibbs
Mark Huitenga
Anthony Haygarth
Alf Patane
Rita Winkler
Merle Hickman
Doris Rees
Charlie Pizzino
Cirino Licciardello
Jane Cox & Barry Herbert
Helen McCarthy
Des & Robyn Depiazzi
Joe Licciardello
Mark Sanders
Mario Contarino
Rick Fewster
Tore Licciardello
Aldo Sapienza
Dave Ripper
Pamela Harrison
Sam Licciardello
Stan Holland
Clinton
Armstrong
Jake Jackson
Ian Kemp
Leigh Milne
Geoff Box
Judith & Richard Aldridge
Damian Dixon
Neil Bowman
Greg Chapman
Charlie & Michelle Keall
Jack &
Rae Stannard
Brian &
Judy Byatt
Derek Chapman
Keith Barnes
Rod Ellard
Deb Brealey
Anne Donovan
Jim Stewart
Tina Beck-Busetti
Clare Parry
John Kidd
Michael Anderson
Craig Fletcher
Dave Blair
Peter Carson
Peter Brockman
Ray & Karen Williams
Kelvin
Riising
Graham Bradshaw
John Audino
Jarrad Hatch
Thanks must go to all the Businesses who made it possible!
Crendon Machinery
PCarso Play Designs
Machinery West
Donnybrook Hardware & Rural
T & T Gulvin
Men In Sheds
Trimview Ceramics
Direct
Fuel Supplies
Donnybrook Farm Service
CMC Coil Steels Pty Ltd
Lombardo Sandstone
Rexel Electrical Supplies
Impressive Steel
P & L McCabe "part paid"
Donnybrook Building Company
Boyanup Cellars
Donnybrook Panel Beaters
Cullity
Timbers
Donnybrook Balingup Shire
Donnybrook Motel
A & R Engineering
Pete's Tiling Service
Ag-scope
M & B
Doors
Donnybrook Butchers
Brookhampton Estate
Bunbury
Machinery
Bramac
Pty Ltd
Brian
Fisher Fabrications
Fruit
Barn
Benson's Chainsaw Centre
Bluescope Distribution
Alf's Machinery
Kirup
Valley Farms
Ready Mix
Beautiful Spirit
Tents West
Donnybrook Lions Club
Collie Rotary Club
Kelvin
Riising
GJ Freight
Patane Transport
Cellarbrations Donnybrook
Donnybrook
Civil Contractors
Garry
Battle Earthmoving
John
Audino
Donnybrook
Sand Supplies
EarthMac
Donnybrook
Green waste Recyclers
Phil Gaden